OUR STEP-BY-STEP WORK PROCESS
Discover
The first step is to understand your business goals and marketing targets. Meetings are held to conceptualize your vision while determining the design and functionality requirements. These requirements are analyzed for their effectiveness to create the website's sitemap.
Research
Based on the specifications gathered, we conduct in-depth research of the industry, market pool, and target population is conducted to establish the design strategy and implementation to best accomplish your goals within the budget allocated and time frame.
Design
Based on the research, a theme including color scheme, navigation, the general look and feel along with layouts and structures is designed. You will be involved throughout to finalize on the branding, graphics and content distribution within the website.
Develop
Based on the design and the conception, a fully integrated marketing solution is developed. A custom responsive website is built which is social-friendly, mobile-ready and search engine optimized. Latest front-end web technologies are integrated for enhanced user experience, and industry features to reduce bounce rates.
Launch & Training
Your new site is launched after extensive testing to ensure the website is bug free and is fully compatible and optimized with all the latest browsers and systems. A full one on one training is provided to understand the usage of the website and marketing tools effectively to manage web pages, blogs and social sites along with the content strategy.
Measure
Integration of measuring tools is the next step. They're used to track the performance of the site, to generate detailed reports and statistics of the traffic sources, new vs. return customers, page views, keywords, browsers and devices used. Quarterly reports evaluation and strategy analysis with continuing education on next steps is offered.
Maintain
The entire marketing solution and software is hosted and maintained for any upgrades, fix packs, security patches and backups. An ongoing technical support is provided for any training, changes and knowledge sharing. Any technology and market trends are communicated to you in a timely manner to create awareness.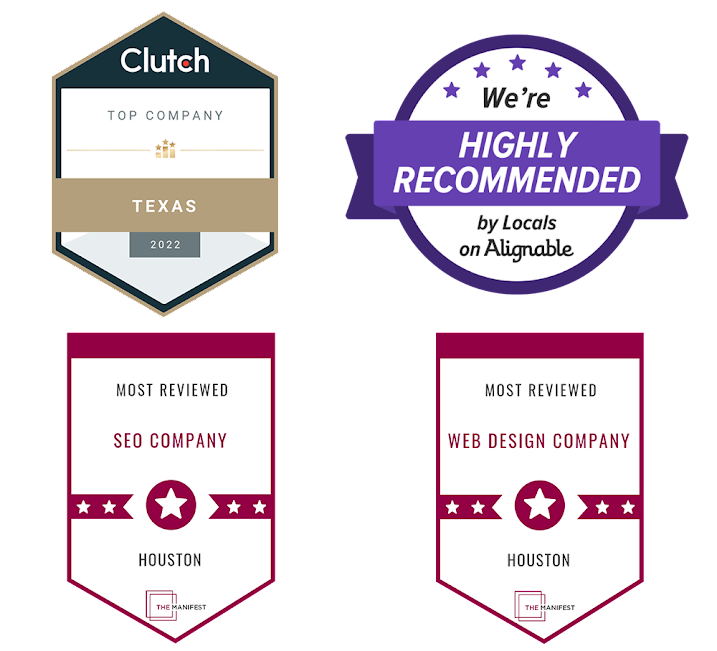 One of Houston's Top Digital Marketing Agencies
We consider it a privilege to be awarded one of the top digital marketing agencies in Houston. Helping local businesses grow their brand and meet their online marketing goals is one of our greatest accomplishments.