Sales
Search Engine
We understand that your brand is your business online profile and representation of your credibility. We specialize in brand management to build a strong and durable web presence and identity that delivers true results. Everytime.
ITVibes is connected to the non-profit organizations within our community and we want to see you succeed. Our integrated solutions for nonprofit organizations are designed to help you manage your events and fundraising efforts, while building awareness in your local community. We have worked with Chamber of Commerces, Emergency & Pregnancy Assistance Centers, Local City Government, Churches, Business Associations, Local Groups, Expo & Convention Centers and more. Our
nonprofit clients
have the tools they need to build the awareness they deserve to make an impact on their community.
KEY BENEFITS OF TARGETED NONPROFIT MARKETING
Increase community awareness
Attract more volunteers and high-quality repeat sponsors
Give the media easy access to the information they need
Add your voice to the cause and engage your audience
Incorporate social media prominently into the design
Showcase positive action taking place
Increase overall exposure for your brand, organization and/or cause
Our customized nonprofit website solutions help boost your nonprofit organization's online presence. We design and develop solutions specifically for your organization's cause and purpose.
Our integrated nonprofit web solutions include design and development, hosting, maintenance and content writing – we focus on the details so you can focus on the cause!
WEB DEVELOPMENT
All of the tools you need, as a professional, are part of web development and integrated into an easy-to-use interface with user-friendly navigation.
Membership Directory
Events Calendar
Donation tracking and management
Volunteer hours management
Online applications process and approval
Online Payments
Members sign up and portal
Self-Managed Member Listings
WEB DESIGN
Our designers are up to speed on the latest trending web designs and tools for nonprofit organizations, and also familiar with nonprofit web design standards.
Beautiful, Clean and Modern Web Design
Intuitive and Logical Sitemap
Showcase Your Unique Brand and Cause
Attract Potential Sponsors and Volunteers
Engaging Content driven by Keyword Analysis
Easy to Use Content Management/Editor
Search Engine-Friendly Code
Optimized for Mobile Access
SEARCH ENGINE OPTIMIZATION
We will help you reach more people in less time to build awareness for your nonprofit fundraising campaign or organization. Our search engine optimization (SEO) solutions continue to work behind the scenes while you keep your resources and volunteers focused on the heart of the mission.
MARKETING AUTOMATION
We provide a complete marketing funnel process by managing marketing automation services for your business. Automated tasks give your sales and marketing team a way to easily and efficiently move leads through the pipeline to conversion!
MAINTENANCE AND SUPPORT
Our job does not stop once your website is complete. Our team provides you ongoing maintenance, continuing education, and technical support. We are dedicated to helping your online presence grow.
Website Hosting with 20GB space and 20GB bandwidth
Software, plug-ins upgrades, fix packs, security patches
WordPress/Content Management Training for you and your team
Website stats & real-time traffic analytics
Social Media Support
Weekly data and application backups
Ongoing technical support
Field-specific Marketing Trends & Tools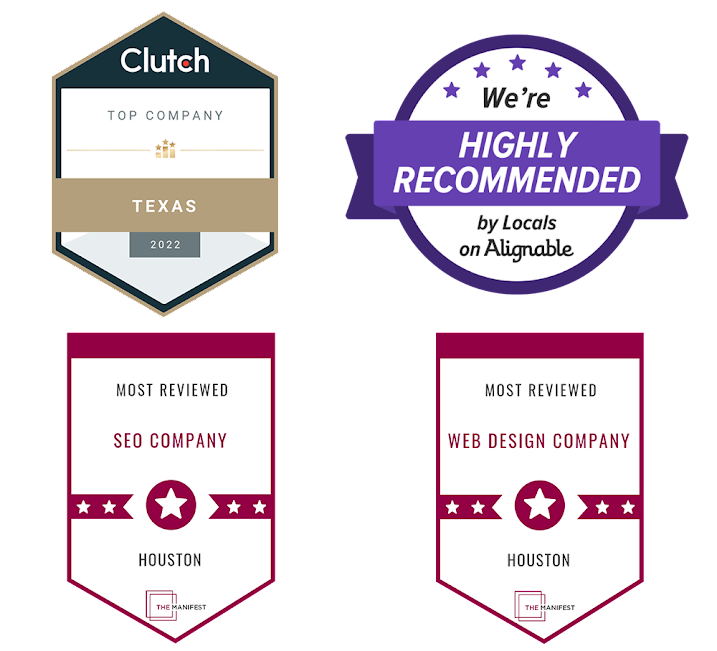 One of Houston's Top Digital Marketing Agencies
We consider it a privilege to be awarded one of the top digital marketing agencies in Houston. Helping local businesses grow their brand and meet their online marketing goals is one of our greatest accomplishments.