Web Design & Marketing for Health Institutions
Your patients come to you because they know they can trust you with their healthcare. We want you to know that you can place the same kind of trust in ITVibes for your healthcare marketing strategy. Our team has worked with hospitals, clinics, doctor offices, assisted living facilities, and more. We know what it takes to reach new patients in your area while providing a quality online experience for existing patients.
Keep your 
healthcare

brand at the 

forefront

of people's minds. 
Why work with ITVibes on your 
healthcare marketing strategy?
At ITVibes we measure our success by your growth. We have the tools and experience to help your healthcare business succeed and make it our personal goal to stay ahead of your competition.
Search Engine Optimization
Increase the traffic to your website
Mobile App And User Experience
Develop your custom app
Web Development
Design and build your website
Social Media Marketing
Share on social networks
System Management
Manage networks and systems
Stand out as a leading provider 
online.
We'll not only ensure your brand is presented professionally, but we'll make your patient volume grow faster than ever before!
Position your brand as a leading healthcare provider.
Manage your online reputation across multiple platforms.
Provide helpful resources for your patients at the click of the mouse.
Keep patient information secure with personalized software.
What Past Clients 

Are Saying
We hired ITVibes in 2015 to create our website in hopes to accelerate our business and online presence. The entire process was made easy with a team of experts dedicated to our website design and success. ITVibes also covers all of the ongoing monthly updates and security measures to keep us protected. We have been loyal clients for almost 9 years and are still impressed with their exceptional work.

monte bishop
17:59 09 Oct 23
I had very high expectations for my new company's website and digital marketing plan, and IT Vibes absolutely exceeded them! They were amazingly responsive, great attention to detail, and overall seemed to care as much about my small business as I do - many thanks to everyone involved. I get compliments on the new website daily. True professionals and a pleasure to work with - the entire team.

Jay Johnson
17:52 21 Sep 23
About a year ago, I decided it was time to "up" my game on my small business website. I wanted to work with someone local, so I contacted ITVibes and they have been great to work with! I mostly communicated with Wendy and she was always super-helpful and fast to respond to any silly questions I had. And, believe me, I had a lot of them! Siva and his entire team were always on top of everything, as well. I'm definitely happy I went to ITVibes and I'd recommend them to anyone. A+

I have been a client with ITVibes for over 5 years. They helped me navigate the pandemic as my small business was struggling and continued to support us through it. Recently they have re-built my business website and the team was very professional and attentive to our business need. They scheduled one-on-one zoom meetings and walked me through countless of website designs until we picked the right one for us. They worked at our pace and never felt rushed to publish the website. I appreciate all the support and professionalism.

Ahmad Abodeeb
16:21 04 Aug 23
We continue to have a great experience with ITVibes! They built our website and it was exactly what we were looking for. Their attentive and knowledgeable staff ensured that our experience with our project would be a hassle-free one and they did not disappoint. We've been very pleased with their overall responsiveness and service, they go above and beyond to make sure that you are satisfied with any of their services.

Dock Boxes Unlimited
20:36 18 Jul 23
ITVibes recently helped rebuild our company's website. The entire team at ITVibes is extremely helpful, knowledgeable, and responsive. They made the website rebuild process so easy and efficient. We've enjoyed working with them on the rebuild so much that we've also hired them to maintain our new site. With regards to website maintenance, their turnaround times are incredible, and I know that I can trust them to get the job done quickly and correctly.

I have been with IT Vibes for some time now. They designed my website a few years ago and now I use them for my content management, social media postings, search engine optimization and a host of other things. It has taken about 45 days to see positive results. I whole heartedly recommend IT Vibes for your business needs.

Gregory Carter
15:46 27 Feb 23
ITVibes manages all of our IT and more importantly, our website content and social media. The entire team does a terrific job. Very timely with executing their strategies.

Robert Drisaldi
00:46 02 Aug 22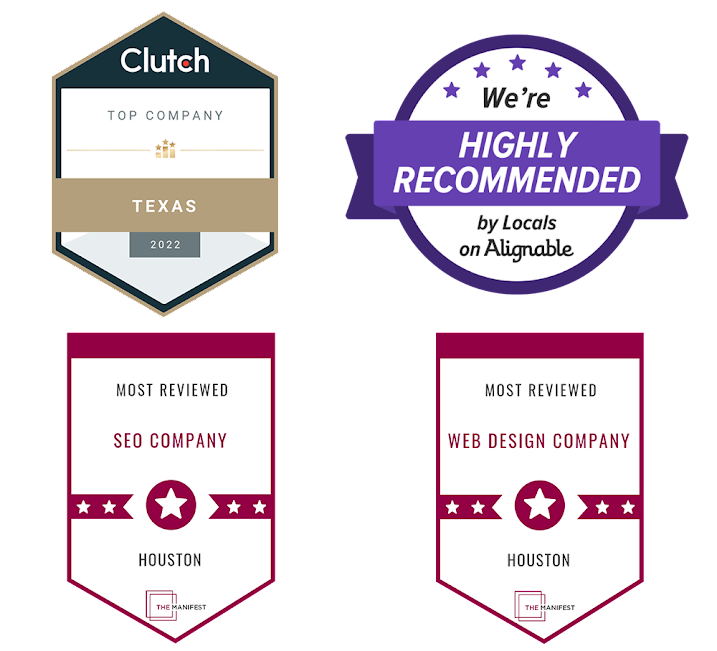 One of Houston's Top Digital Marketing Agencies
We consider it a privilege to be awarded one of the top digital marketing agencies in Houston. Helping local businesses grow their brand and meet their online marketing goals is one of our greatest accomplishments.