Your Digital


Marketing Agency...

helping your business soar into the next generation.

SERVING HOUSTON, THE WOODLANDS, KATY, CYPRESS, & MORE

View digital marketing solutions
14
Years Of Digital
Marketing Experience
Why Choose Us As Your Digital Marketing Agency?
Digital marketing involves combining technology with advertising techniques. We have years of experience in both web development and brand management and are proud to serve Houston, The Woodlands, Katy, Cypress, and more. Our digital marketing agency has the unique ability to develop digital marketing campaigns that are optimized for the latest technologies and best practices.
Customer Service
When you partner with us, you'll be given direct access to our customer support team. We'll walk you through every step of the project to ensure you have the best possible experience. We're determined to provide every client with the highest level of customer service and quality work available.
Measurable Results
We have a proven track record with a variety of local and international companies across the United States. We're focused on providing solutions that are data-oriented and successful from beginning to end. Whether it's mobile app development or social media marketing, our services are customized to meet your specific needs.
Industry Experience
From real estate and education to hospitality and oil and gas, we have worked with a number of industries. We've learned what your target audience is looking for and which industry standards are worth striving after. We take the time to understand your brand and competition to provide a solution that works.
Technology Innovation
With a background in software development, we combine data and creativity to answer your toughest tech problems. It's our goal to provide you with a solution that is both user-friendly and sustainable. By partnering with us, you can save time and money with a business solution that will last for years to come.
WHAT ARE YOUR DIGITAL MARKETING GOALS?
Digital Marketing is What We Do
Vertical Markets:
DOMINATE YOUR INDUSTRY
Solutions for Every Industry
DOMINATE YOUR FIELD
What Sets Our Digital Marketing Agency Apart
It's time to transform your online presence. Experience the power of working with an all-in-one web design, development, and digital marketing agency.
Brighter Future
Watch your business flourish with the latest digital marketing solutions.
Quality Service
Receive one-on-one support and quality assurance from our team members.
Better Leads
Increase your sales with strategies geared toward your target audience.
Real Results
Start seeing your online presence increase in line with your company's goals.
Amazing!! So happy to find a local company with amazing service!!
--
Karen Gomez
ITVibes is very detailed and knowledgeable when it comes to website development. We have had great success with our site and continue to have a long relationship with the entire staff at IT Vibes.
--
Doug Erdy Group
ITVibes has done an amazing job over the last several months helping us to rebuild multiple websites starting with El Tiempo Cantina then moving on to our Laurenzo's and Tony Mandola's concepts. We are currently developing our El Tiempo Taqueria website with iTVibes and they have also done an excellent job with out catering website too. Siva and his amazing staff are friendly, professional and hands on and were patient as we went back and forth to ensure we developed the perfect website for our needs! iTVibes helped bring El Tiempo Cantina's website and online presence out of the prehistoric age and into a user friendly more interactive and informative website. I look forward to continued development and improvements using iTVibes!
--
Eltiempo Cantina
The ITVibes team helped me turn a monster project into a great, workable website.
--
The Woodlands Garage Door Service
ITVibes did such an amazing job creating 5 different websited for me.From day one when i meet with them until now as they manager the maintenance work.I highly recomment them for sure.
--
Mary Campos
IT Vibes put together a great website for my business that I frequently receive compliments on. They stay on top of things and make sure every client receives first class service. Highly recommended.
--
Paradigm Construction
IT Vibes did a wonderful job overhauling our websites. They listened to our ideas and gave suggestions to enhance and compliment our thoughts and ideas on what we wanted to see. Joshua and Kalyan are terrific to work with. They really know what they are doing and have a knack for understanding the client's needs and executing them.
--
RE/MAX Legends -The Matthews Team
Siva and his team are the real deal. As a new business I really wanted to be sure we had an impressive online presence, Siva helped us achieve that goal. They went above and beyond to respond to any concerns and questions I had during the process. Highly recommend them!
--
Substantia Realty
Our old website layout was horribly outdated by about 10 years, and it just wasn't giving the right impression to potential customers. We found out about IT Vibes through a Chamber of Commerce seminar, and we decided to let them re-design our site. Wow! It's AWESOME now! It's up to date, fresh, visually appealing, easy to navigate, and we got to write the content and pick out pictures so that it showcased our business in a way that really did it justice. The best part was that we were able to have one-on-one meetings with them, as well as reach the people in charge of our site through personal contact information; this made the process of making changes, updating, and getting help quick and easy. From a monetary stand-point, you really are getting the best bang for your buck. Honestly though, the thing that sets them apart from any other web design/SEO company is their level of customer service- they have nothing but 5 star ratings for a reason!!!
--
Tarantino
ITVibes redesigned our website with a whole new clean, modern look and we're very happy with the outcome.Their support team is very responsive to our inquiries and requests for updates on our site, with a quick turn around time, ITVibes was recommended to us by of on of their existing clients and we would gladly recommend them to anyone looking for a new web designer/developer.
--
Robin Reyes
What clients are
Saying about us
Digital Marketing Agency Questions
What is a digital marketing agency?
A digital marketing agency uses different strategies to help a brand or business meet its advertising or branding goals. Instead of having one person handle all of the advertising, an agency team makes use of multiple areas of expertise. We'll help you increase sales, highlight a product, or launch a new website with ease.
With an online advertising agency, you can leave all of the backend details to experts. This gives you the prime opportunity to focus on what matters most – providing quality products and services.
What does a digital marketing company do?
Partnering with business owners and existing marketing departments, digital marketing agencies help set up and run advertising campaigns. General services include web design, social media marketing, local SEO services, email marketing, video production, and paid advertising campaigns.
Why should you hire a digital marketing agency?
Many business owners' time is split between managing employees and providing services to customers. There's usually no time left in the day or week to devote to marketing, let alone content creation. By hiring a digital marketing agency, you can start using your valuable time more efficiently.
How long does it take to see results?
Usually, it takes about 8-12 months to see a positive ROI for a project. While many clients start to see progress after ninety days, these can be contingent on the time of year. By going through each season and multiple campaigns, you can get a clear picture of your success. We try to meet with clients every couple of weeks to make sure everyone's on the same page.
What makes us different from other digital marketing firms?
To put it simply: we get results! With expertise in digital marketing and over 80+ 5-star reviews on Google, customer service is our priority. We look at every project with a unique perspective and work diligently to provide solutions that work.
What geographical areas do we serve?
We provide professional digital marketing and web design services to those in Houston, The Woodlands, Katy, Cypress, and more.
To be honest, there's no area of town that we can't access especially with new remote technologies. With previous customers based in cities across the United States, we've had the privilege of working with a number of different industries. It's our personal mission to help you meet your goals with as much ease as possible – regardless of your location.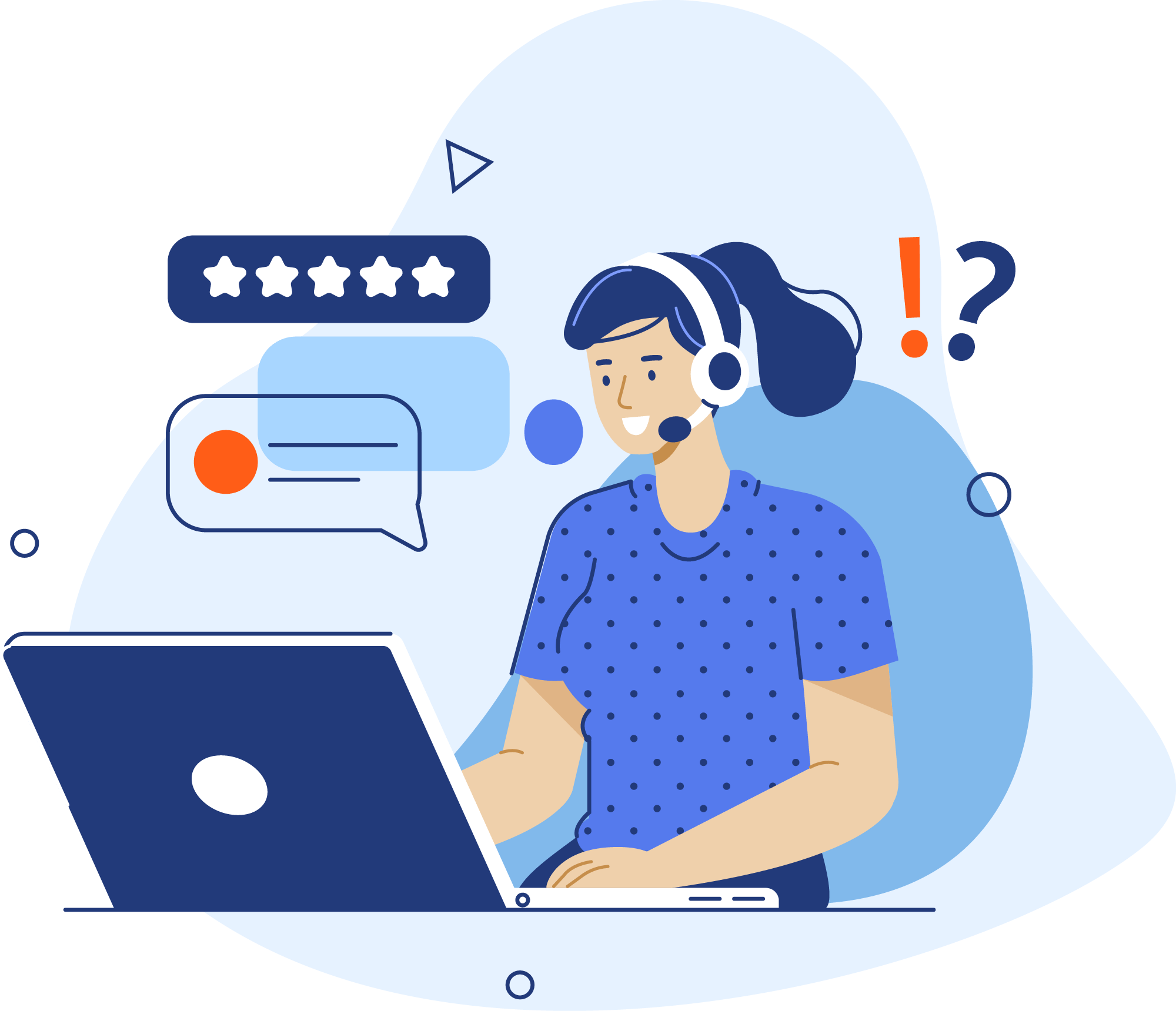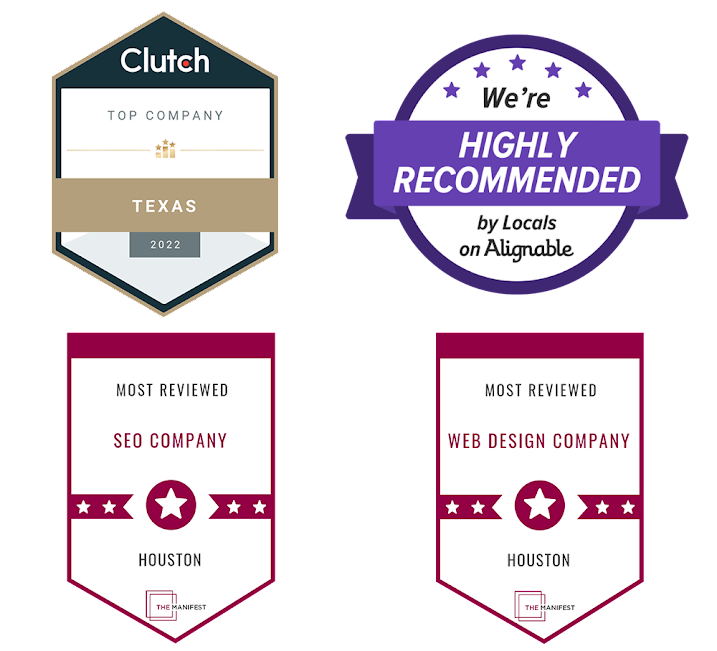 One of Houston's Top Digital Marketing Agencies
We consider it a privilege to be awarded one of the top digital marketing agencies in Houston. Helping local businesses grow their brand and meet their online marketing goals is one of our greatest accomplishments.